The Exposition of the Holy Shroud and the re-opening of the Guariniana Chapel in 2015.
Cooking classes in Piedmont - Langhe
There is a new way to live Italian hospitality and to taste the food of the territory. Just 5 minutes from Alba, in the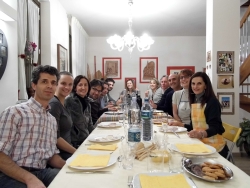 Roero hills, now inscribed in the UNESCO World Heritage List, you can be the special guest of an Italian family. You will discover the traditional dishes of Langhe and you will learn all the secrets to prepare a wonderful dinner. You can choose among different menus and learn how to prepare them. You will take home a part of our culture and an unforgettable "souvenir" of our land and of our friendliness.